Explor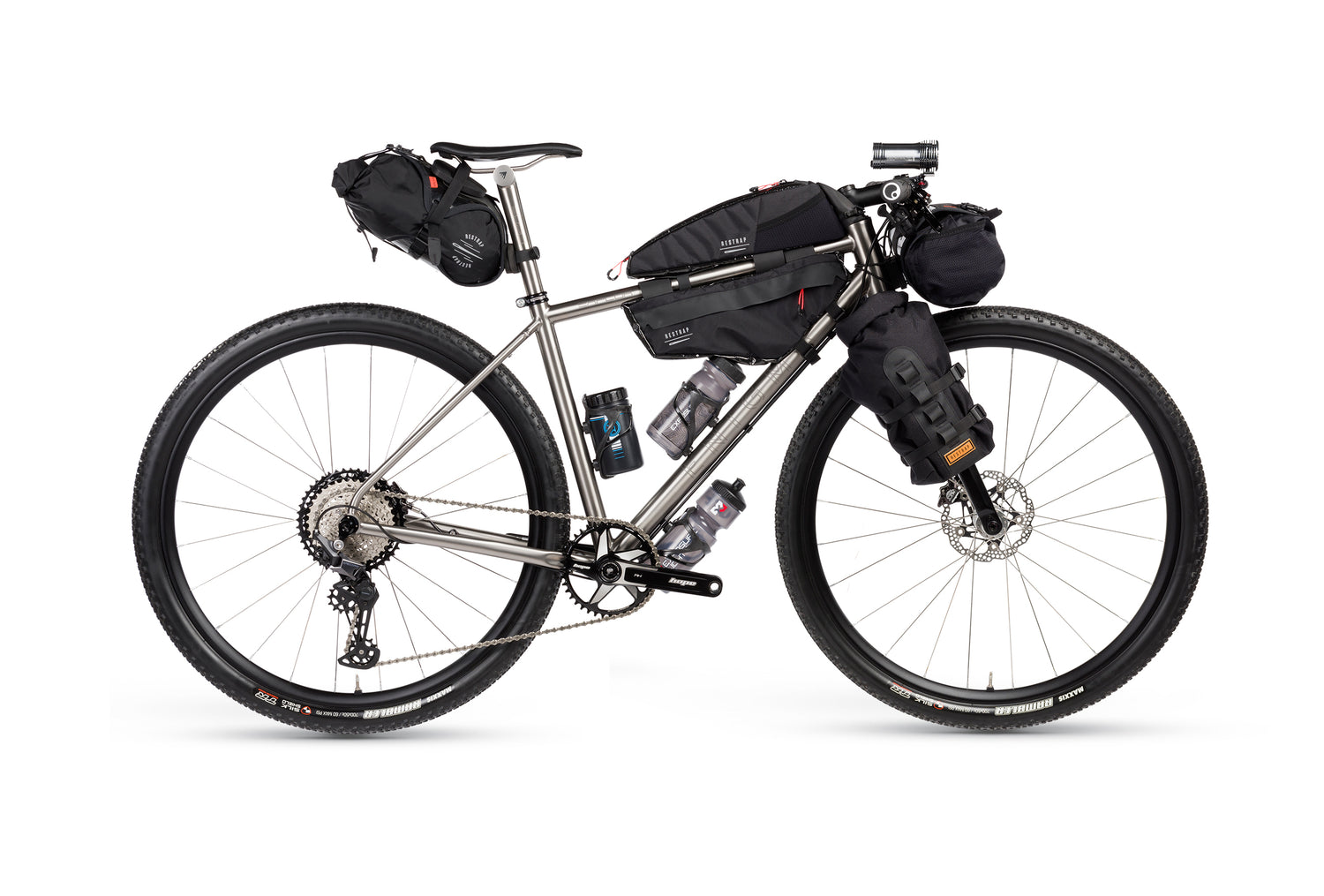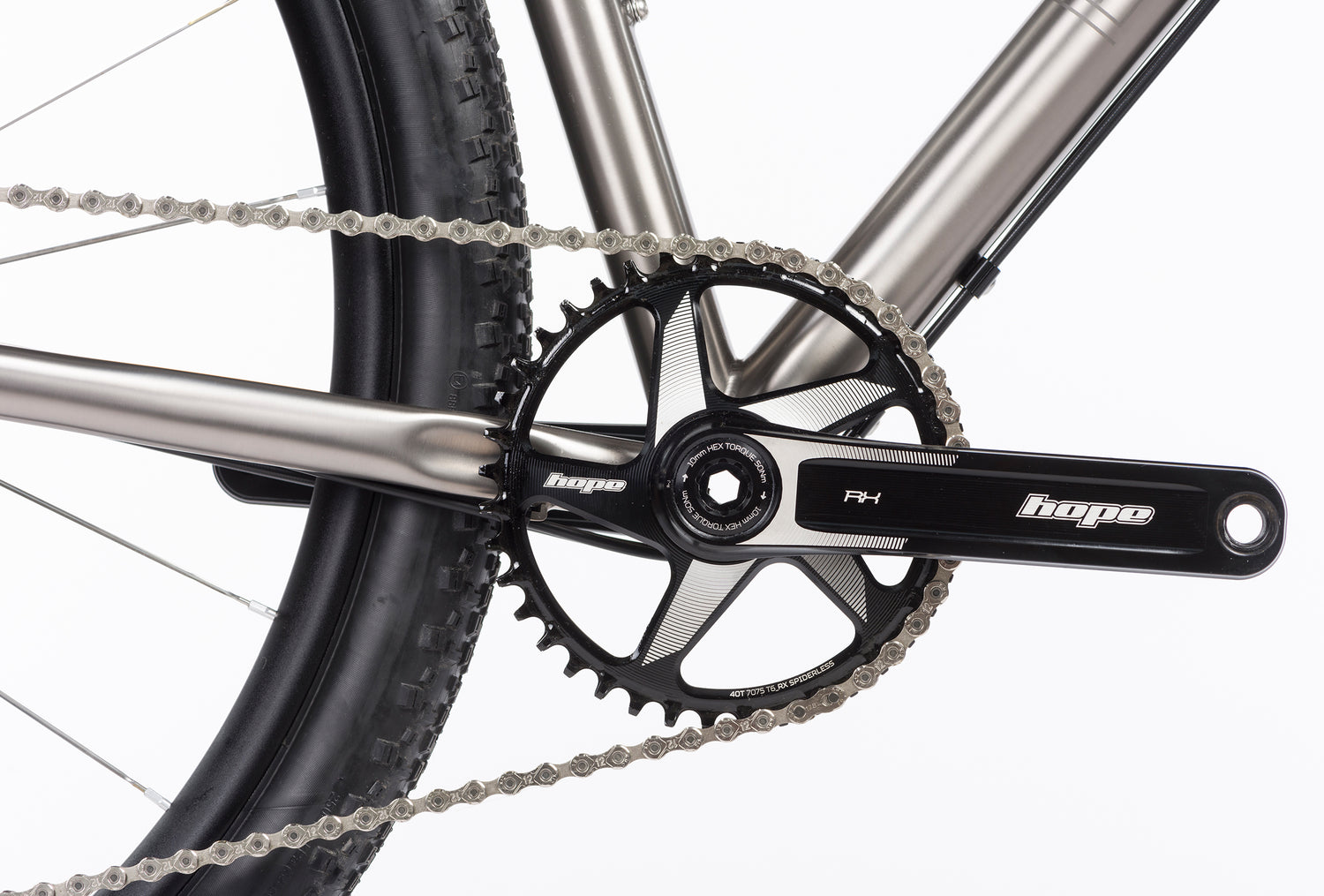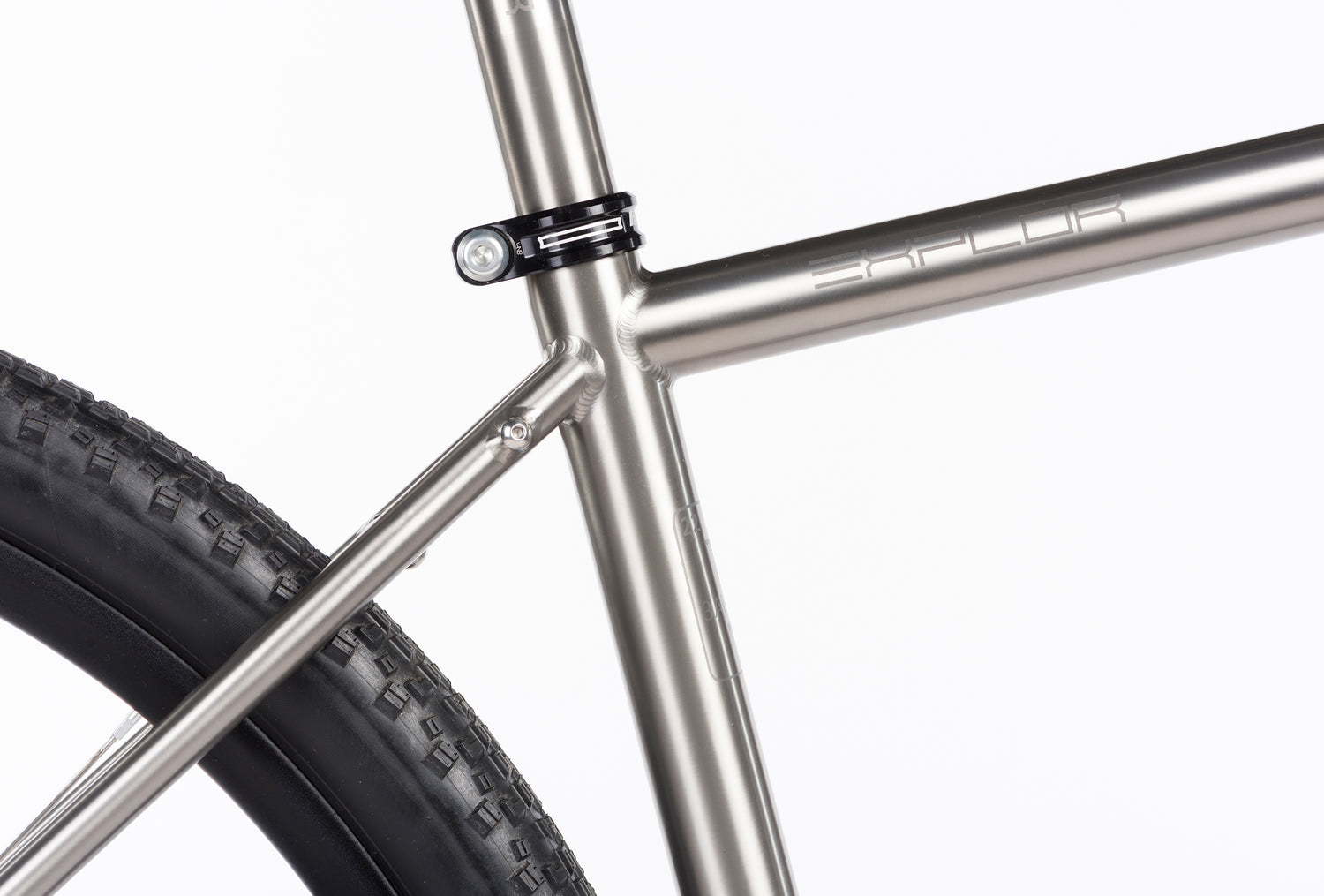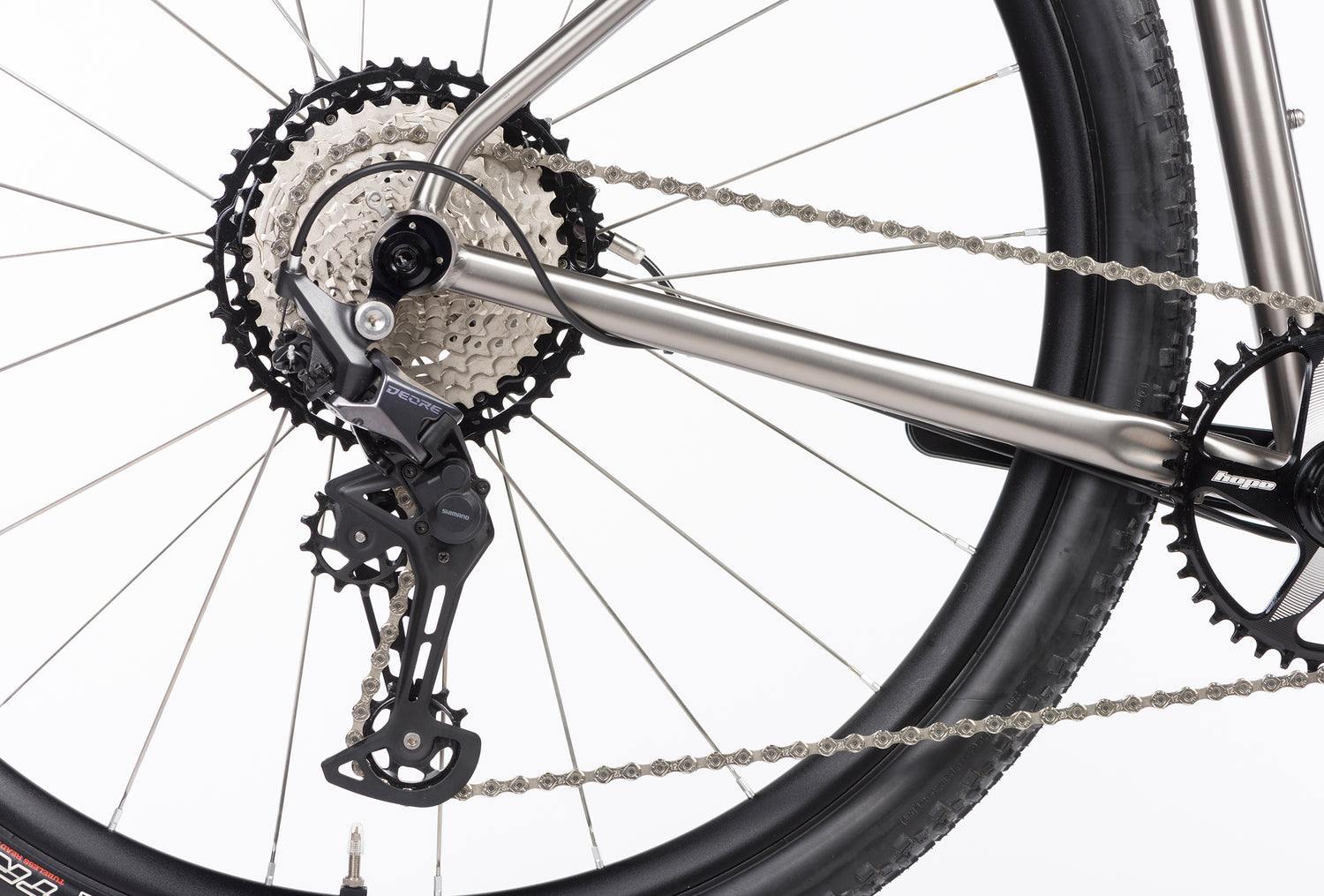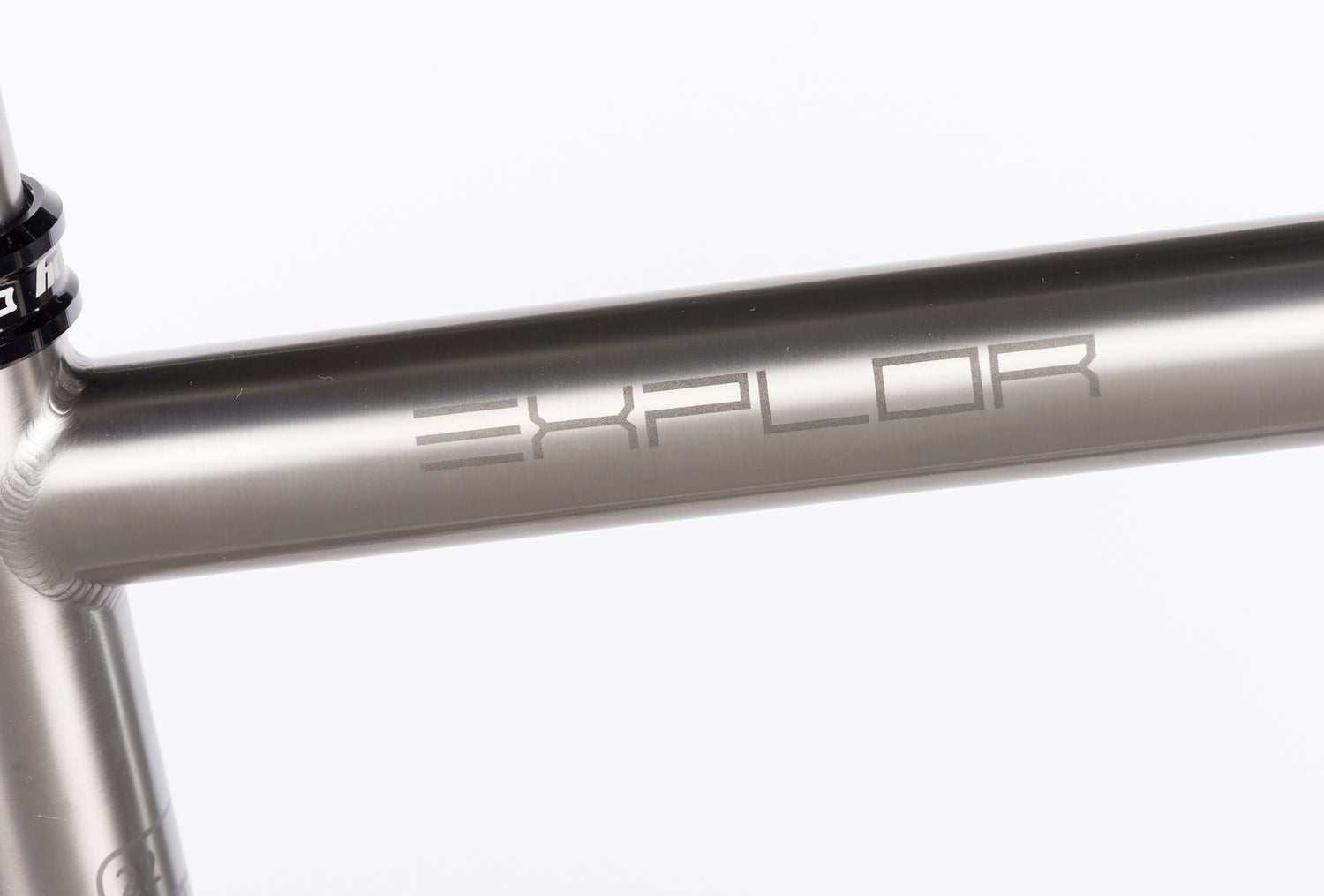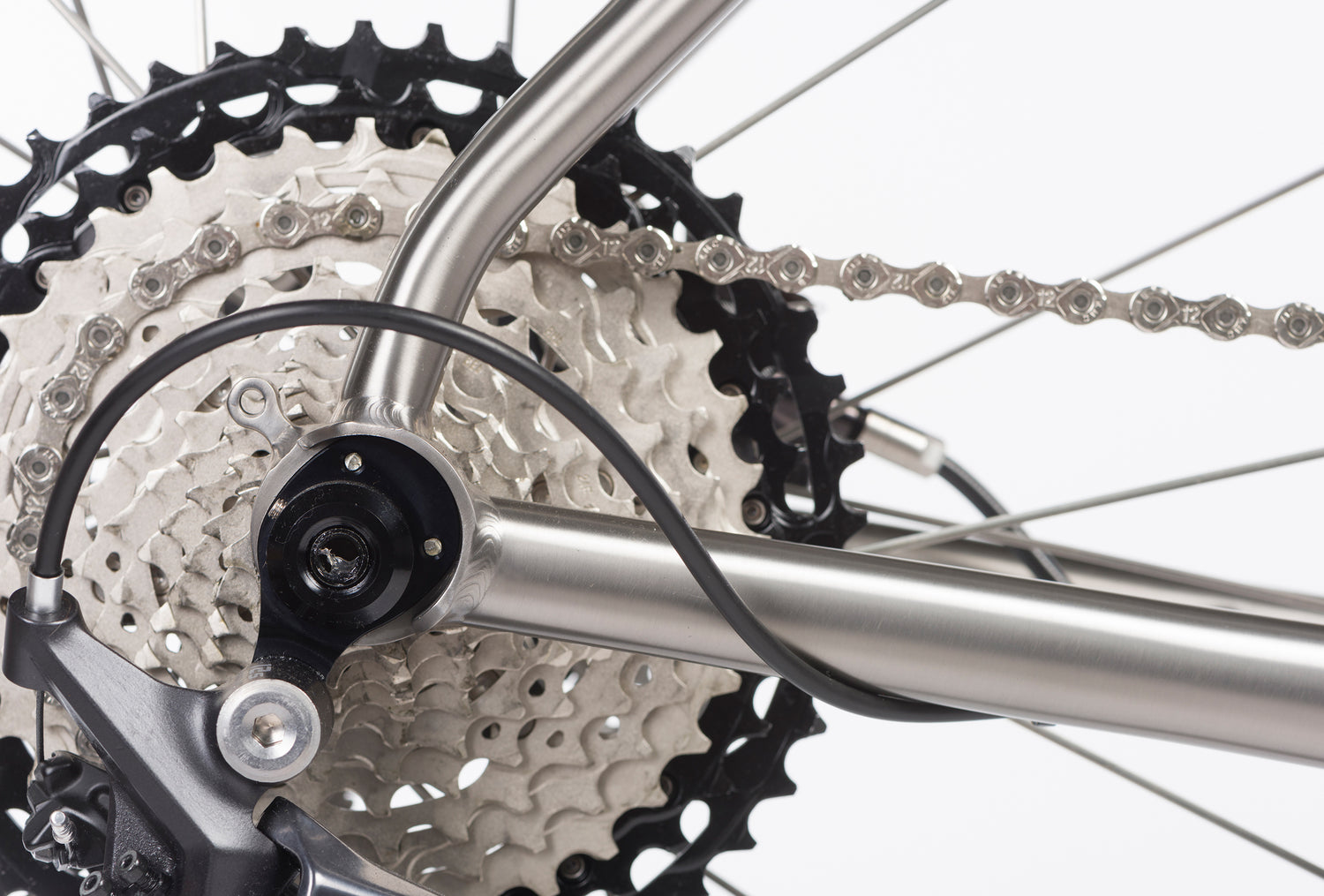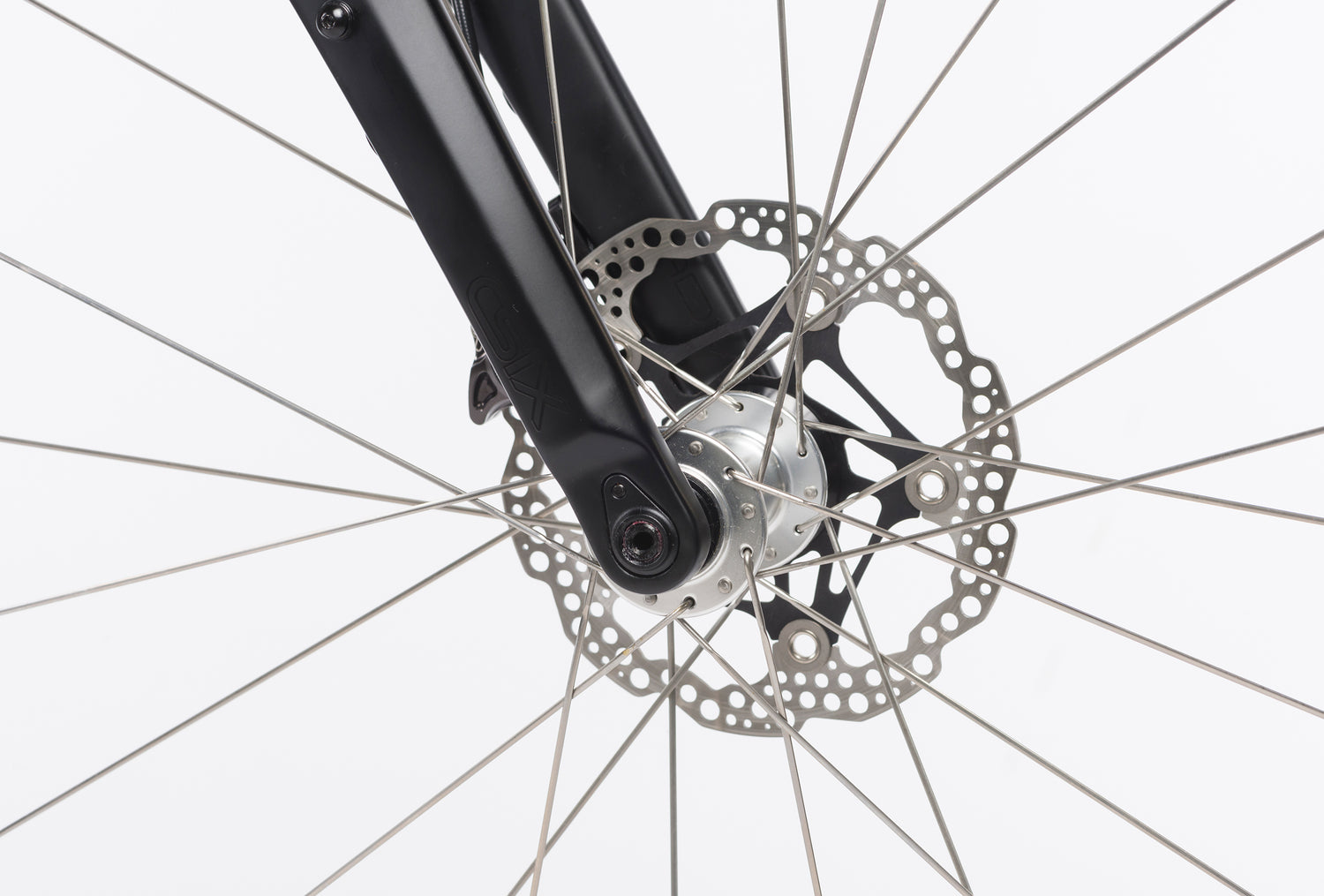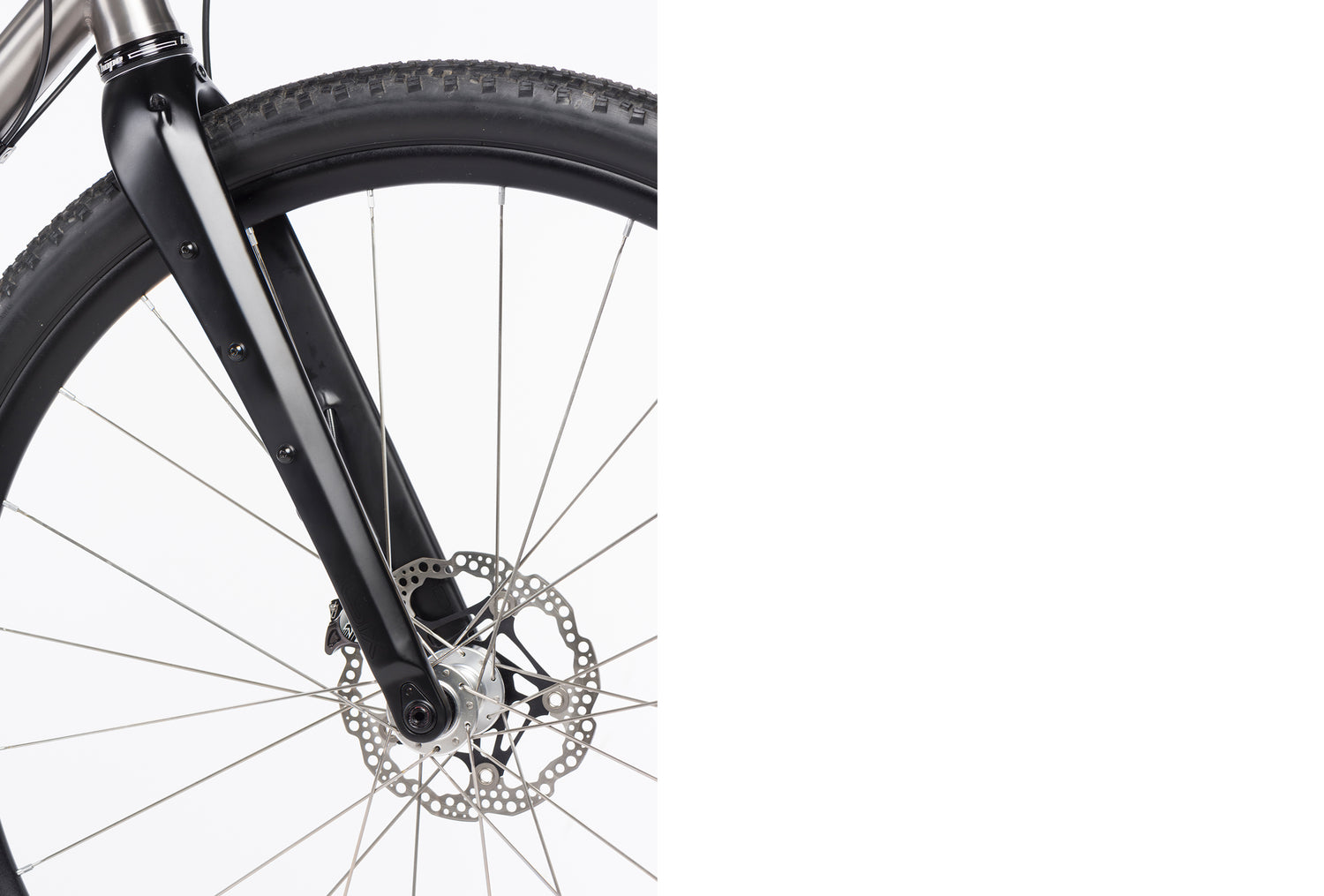 Forge Your Own Path with our Flat Bar Titanium Gravel Bike Built for Adventure
Introducing the Explor - our adventure-ready titanium gravel bike, designed with the adventure seeker in mind. With its specific geometry for flat handlebars, this bike provides maximum comfort and control for riders who want to explore new horizons.
Guide Price:

Shimano 11spd GRX810 1X Mechanical Groupset/C-Six ADV Forks/Hunt Gravel X-Wide Wheels/Maxxis Rambler Tyres/C-Six 31.6 Seatpost/Enigma Stem/Ritchey Classic Handlebars/Ergon GA3 Grips & Enigma Turas Saddle - £4,300
Frame Material

Custom butted, Size specific, Grade 9 3Al/2.5V titanium

Frame Finish Included

Hand Brushed with Satin Bead Logos

Axles

12mm x 100mm Front, 12 x 142mm Bolt Thru

Bottom Bracket

BSA 68mm

Brake Mount

Flat Mount, 140 or 160mm Rotor

Seat Tube Internal

31.6mm or 27.2 with a shim

Seat Tube External

34.9mm

Headset

Integrated ZS44 Upper / EC44 Lower (Chris King Inset 7/8)

Tyre Clearance

700c x 45c with guards, 700c x 50c without

Tyre Clearance

650b x 58c

Front Derailleur

34.9mm Band On

Seatpost

31.6mm or 27.2 with shim
All of our models are available as a frame only, frameset or complete bike. It's also possible to purchase a finishing kit package, 'rolling chassis' including wheels, or a part build if you already have some components you would like to use. Get in touch for details on options not listed
Our Core range models are available with stock sizing and features. This means that it's not possible to change geometry or tyre clearance, however you can still choose your finish and component spec to make it your own. For more information on the different types of finishes available please see our finishing page and our paintworks page. Build prices for our most popular builds are listed as a guide, but if you would like a configuration not listed then please get in touch.
If you purchase a complete bike, it will be supplied fully assembled although a small amount of assembly may be required if the bike is shipped via a courier service. We can build a bike using components supplied by customers, please get in touch to discuss options and prices
Yes, the Explor is designed with off-road riding in mind. By that we mean gravel tracks, fire roads, flowing singletrack etc. It's not designed for jumps, drop offs or technical MTB riding, though you might be surprised how capable it is.
The Explor works well as a robust and confidence inspiring road or commuter bike. Fitted with mudguards and 35-40mm tyres, it rolls along perfectly well for road-based touring or comfortable winter training rides.
We recommend a maximum tyre size of 700 x 50mm or 650b x 58mm. Please note that some tyre/rims will measure differently to the stated size therefore we cannot guarantee that all tyres of this size will fit.
We aim to have all frame sizes available ex stock. However, the Cycle Industry is currently experiencing major supply issues which has affected our ability to maintain stock levels of all frame sizes. If your frame size/model isn't in stock the maximum wait should be around 2 months for frames/framesets. Please contact us for availability on Bike Builds.
You can buy your chosen Enigma directly from us here at Enigma HQ where you will enjoy a premium customer experience. Alternatively, you can buy from one if our chosen cycle retail partners, all carefully selected for their expertise, service and facilities.
We work with all the major Ride to Work schemes including:
Frame Buying Options
Explor
Looking for a bike that's designed to handle all of your adventure riding needs? Look no further than the Explor. Unlike some competitors who use the same geometry for both drop and flat bars, the Explor has a unique geometry that's specifically designed to work with flat bars, resulting in a longer top tube that's perfect for adventure riding.
'Isn't that just an MTB?' we hear you cry! While it may look similar, the Explor has some key differences that make it ideal for adventure riding. For starters, it's equipped with our carbon gravel-specific fork, which saves over a kilogram compared to a typical suspension fork. This not only makes the bike lighter, but also gives it a sleeker and more modern look. It can accommodate a road chainset even with tyre clearance up to a whopping 700x50mm tyre (or 29x2"), which isn't possible on most MTB frames. This means that you can enjoy the benefits of a lightweight bike that's efficient on tarmac, while still being capable off-road. It comes with mounts to take a top tube bag which is a great addition for bikepackers or commuters as it provides accessible storage for snacks, electronics, and repair kits. There are also fittings for fixed mudguards, which is a rare feature in a bike of this type.
So if you're looking for a bike that's built for adventure, consider the Explor. With its unique geometry, carbon gravel-specific fork, and lightweight design, it's the perfect choice for anyone who wants to explore new terrain and push their limits on two wheels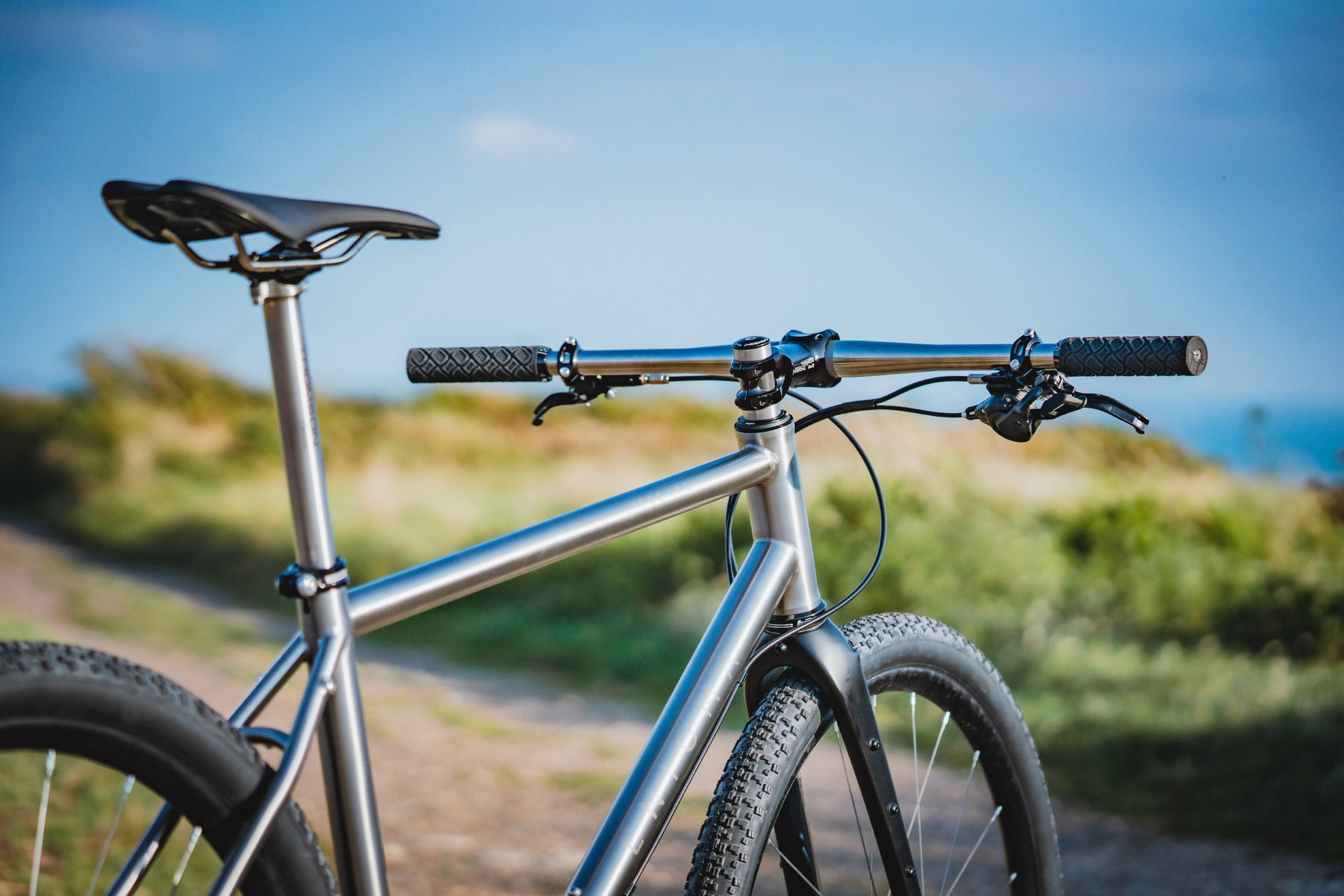 Geometry
The sizing chart will help get you on the right size bike, please also refer to the geometry table for full specification. Learn more about Enigma Bike Sizing
Enigma Explor
Disc
| Frame Size | A - Top Tube (mm) | B - Seat Tube | C - Head Tube | D - Chain Stay | E - BB Drop | F - Seat Angle | G - Head Angle | H - Fork Length | I - Stack | J - Reach | K - Wheel Base | Down Tube OD | Top Tube OD |
| --- | --- | --- | --- | --- | --- | --- | --- | --- | --- | --- | --- | --- | --- |
| Sml | 545 | 440 | 110 | 435 | 75 | 75.5 | 71.0 | 399 | 550 | 400 | 1045 | 38 | 32 |
| Med | 571 | 470 | 135 | 435 | 75 | 75.0 | 71.0 | 399 | 574 | 415 | 1068 | 42 | 32 |
| Lg | 598 | 500 | 160 | 435 | 75 | 74.5 | 71.0 | 399 | 595 | 430 | 1092 | 42 | 32 |
| XL | 625 | 530 | 185 | 435 | 75 | 74.0 | 71.0 | 399 | 621 | 445 | 1115 | 42 | 35 |
Sizing
Frame Size

(Horizontal Top Tube)

Rider Height

(cm)

Rider Height

(Inches)

Saddle Height

(mm)

50
158
5'2"
660
51
162
5'4"
680
52
166
5'5"
700
53
170
5'7"
720
54
174
5'8"
740
55
178
5'10"
760
56
182
6'0"
780
57
186
6'1"
800
58
190
6'3"
820
59
194
6'4"
840
60
198
6'6"
860
Our team of expert fitters are always on hand to help you choose, so if in any doubt please get in touch.