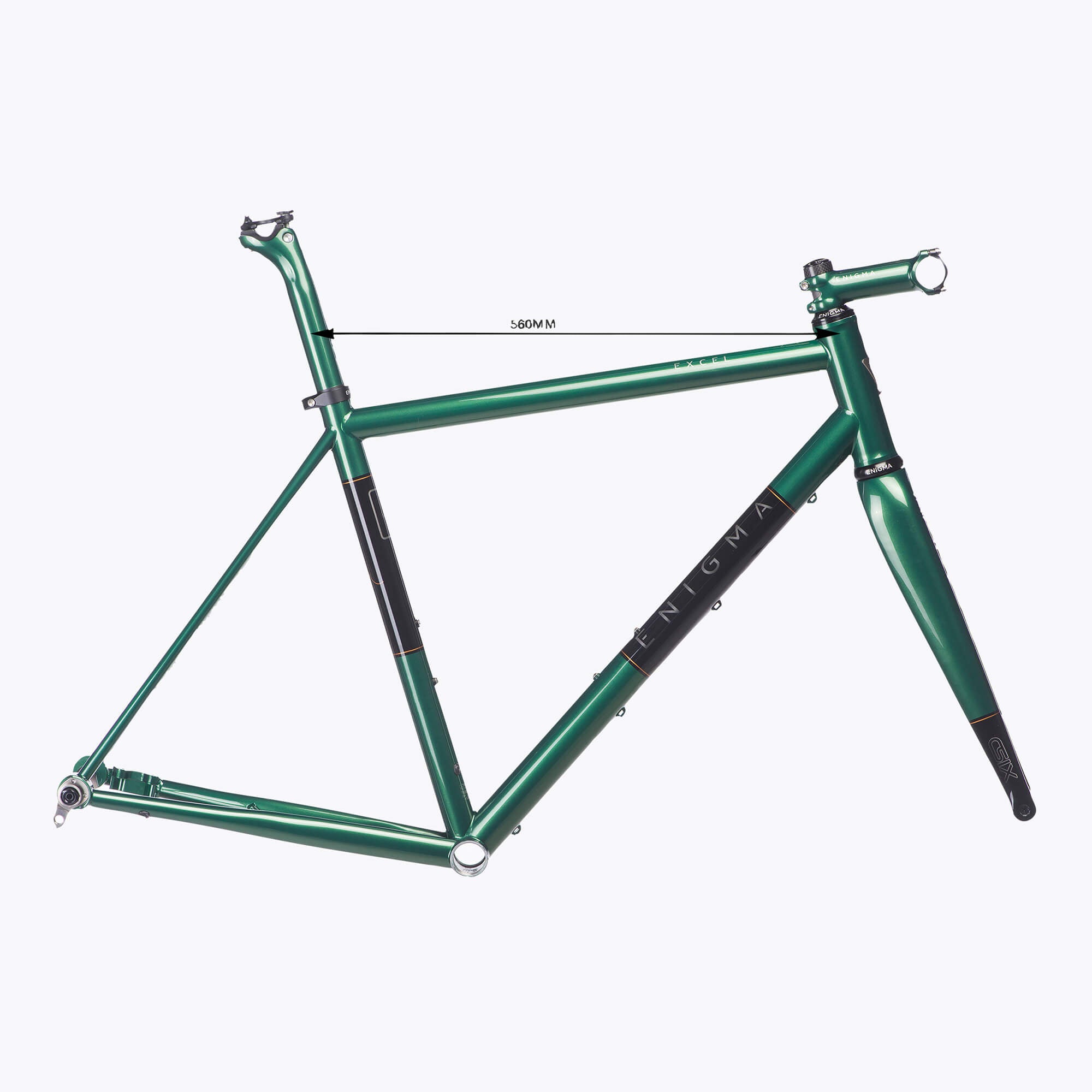 Sizing
Once you have decided on the right Enigma model for you, the next step is to choose the right size. All Enigma road bike sizes are based on the effective top tube length, a horizontal line from the top of the headtube to its intersection with the seat post or seat tube. So for example a 56cm frame has a 56cm ETT
This is the most common and relevant method for sizing road bikes, however be aware that other brands often follow different patterns, particularly for the very smallest and largest sizes. They may use the seat tube length instead, or another 'virtual' measurement which gives the appearance of offering a smaller or larger size than the reality.
We offer 50-60cm sizes for all our bike models, designed to suit most riders from approximately 155 - 200cm tall. If for any reason our standard sizing doesn't work for you, then we also offer custom geometry to make sure you have the perfect fit
Enigma's standard geometry has been developed over many years of direct feedback from our in-house bike fitting studio. Very few brands have such a close relationship between the rider, frame design and manufacturing processes. If we find that we're regularly customising a frame to achieve a better fit, then that information is fed back to the design of our stock frames to constantly improve our products.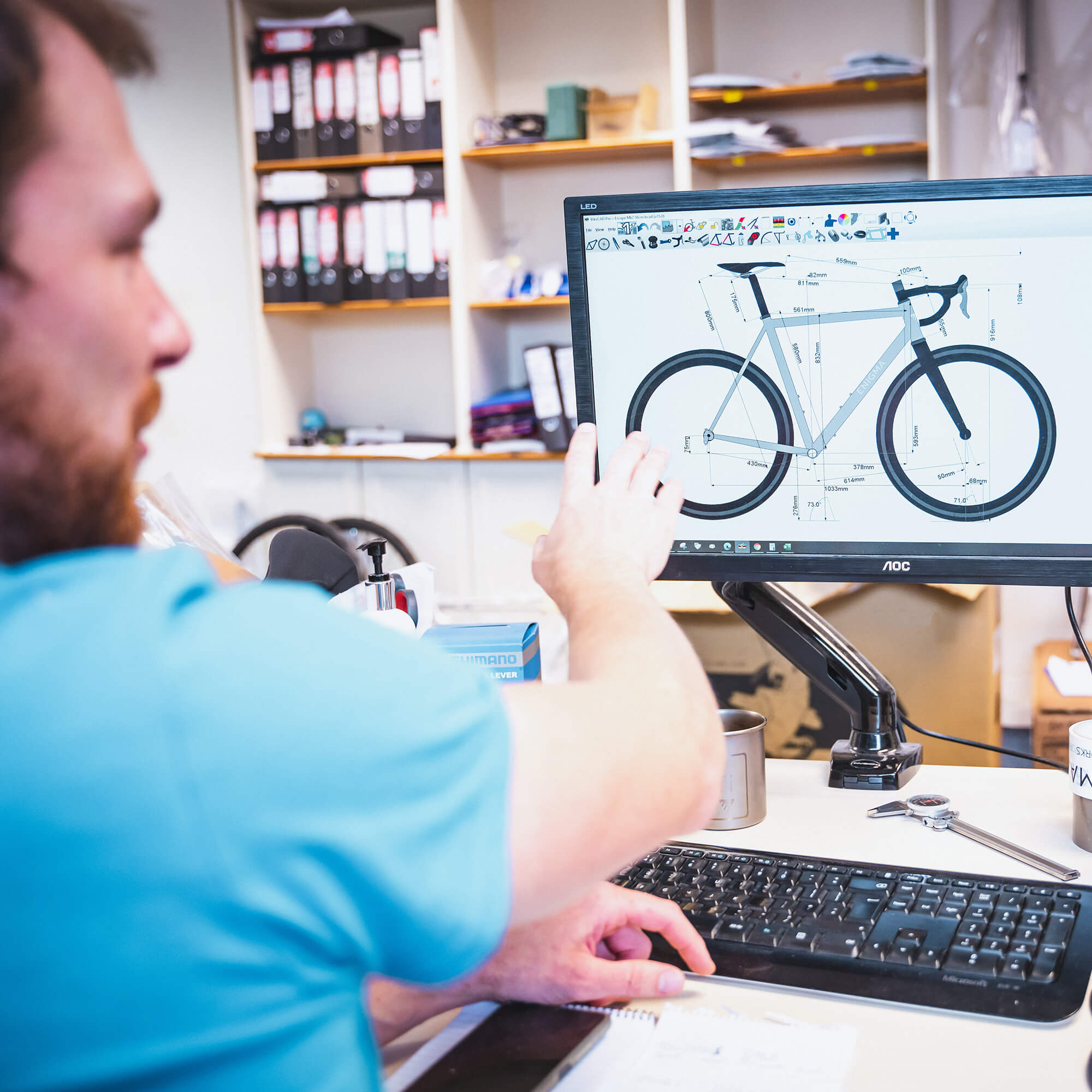 Sizing Help
Determining the correct size can sometimes be as simple as referring to the relevant geometry chart. If in any doubt, having a brief discussion regarding your height, current bike and riding style etc may be beneficial. For other riders it can be a much more complex process involving an in-person fitting lasting several hours. There is no 'one size fits all' process that works for everyone, but here are some typical routes to working out the best size for you.
1) Refer to the relevant Geometry chart - Each model has its own chart and suggested rider height guide.
2) Email - Send us any previous fitting information via email, we can work from most examples. If you don't have existing fit data, we can work from your current bike measurements (see additional info below)
3) Telephone - Feel free to call our office and we can talk through your ideas, experience and goals to determine the best way forward.
4) Visit Enigma HQ - Book a visit and come and see us in person for a bike-fitting.
5) Visit one of our Dealers - We have a network of shops and bike fitters worldwide who can guide you to the perfect bike. Click here for your nearest one.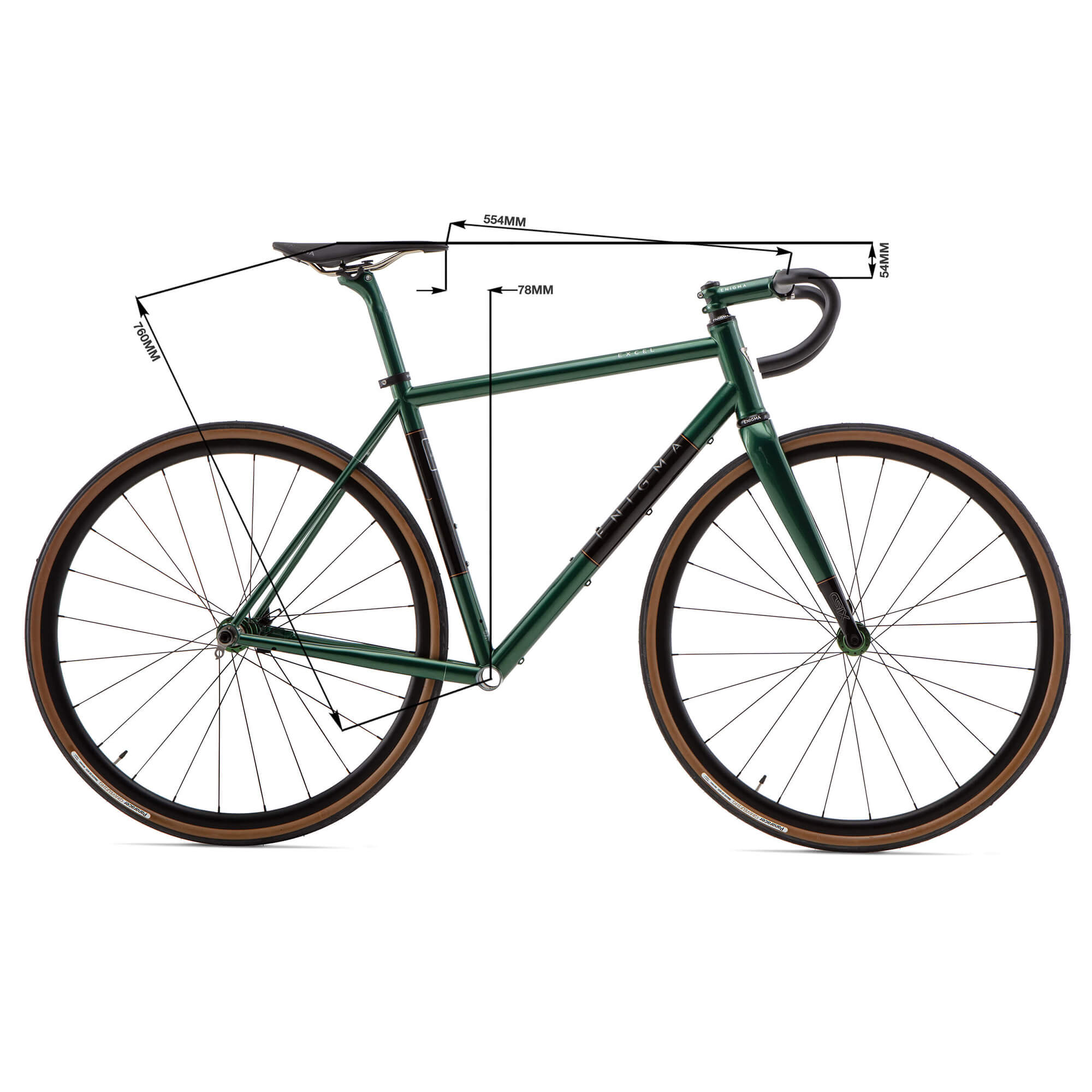 Email or
Telephone Enquiry
For an email or telephone enquiry the following information is useful to us:
1) Your height
2) Either an accurate inseam measurement or your current saddle height
3) Current bike - (make/model/year/size)
4) Your riding style (race/audax/touring etc)
5) Your flexibility (poor/average/good)
6) If your current bike is comfortable for you, the 4 measurements shown on the diagram below will enable us to replicate your fit.
Key Fit Dimensions:

Saddle Height

- centre of BB to top of saddle

Saddle Setback

- horizontal distance from the tip of the saddle to bottom bracket

Reach

- tip of saddle to centre of bars at stem clamp

Drop

- vertical distance from saddle to bars, assumed to be 'drop', please state if 'rise' i.e. bars are higher than saddle